The shortlist for the Electronics Industry Awards 2021 was announced in recent, and we were extremely pleased to see that ITECH has been shortlisted in the Power Product of the Year and Test, Measurement & Inspection Product of the Year category.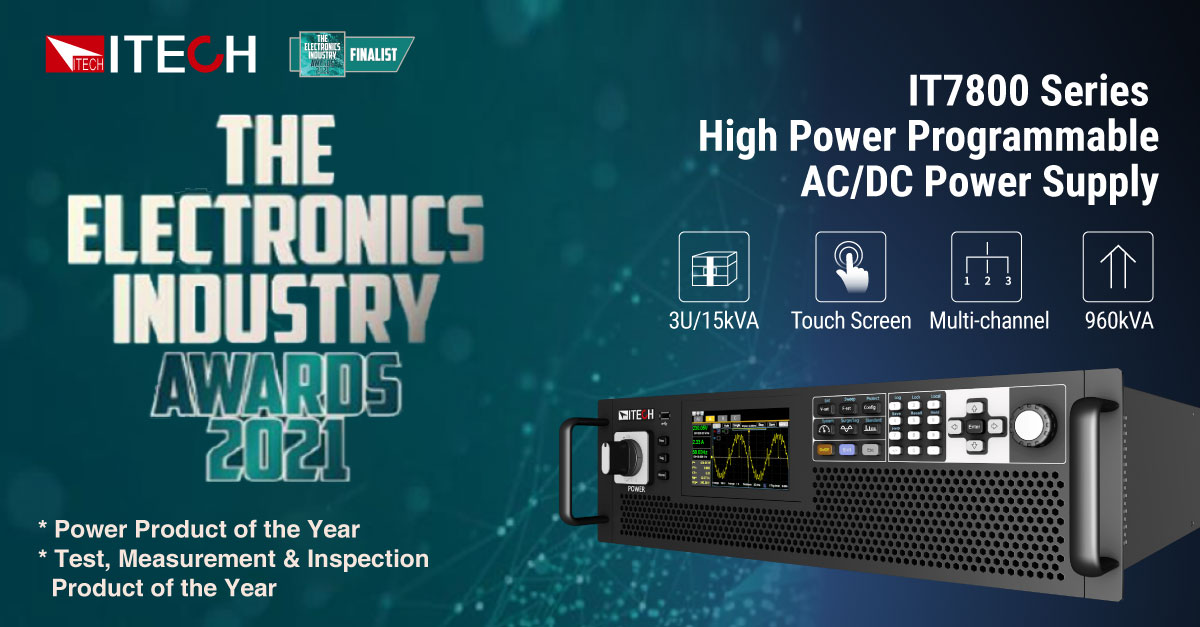 The Electronics Industry Awards is to celebrate the very best professionals, products, projects and companies from across the electronics sector. Now, the awards quickly established itself as a key event on the industry calendar and look forward to giving professionals from across the electronics field a chance to celebrate their collective achievements and rewarding market leaders from across the blossoming sector.
ITECH IT7800 3U high series of programmable AC/DC power supply, with power up to 15kVA, which is nearly 50% smaller than the traditional AC power supply; it is an AC/DC power source with the highest power density on the market. At the same time, users are able to increase output power up to 960kVA by configuring master-slave parallel, which reduces the investment of repeated test cost.
IT7800 series AC/DC power supply comes with cutting-edge technology, provides engineers with powerful testing capabilities and data waveform analysis capabilities. This isa pioneering design in the industry, and it will further enhance engineers'testing experience, reduce testing costs and improve testing efficiency. IT7800 series provides advanced solutions for high-power testing and increasingly complex testing requirements.
IT7800 series high power programmable AC/DC power supply has been recognized by a large number of customers since it was launched. It has performed well in the home appliances, avionics, new energy, power electronics and research institutes and has gradually expanded its market share. Moreover, its sales volume in the European market is also increasing. IT7800 has touched the unique requirements from many international companies and has established close cooperation with well-known enterprises.
Electronics Industry Awards 2021 is the focus of the European electronics industry this year. The final winners will be announced on Thursday 21 October2021 at The Tower Hotel in London. Let's look forward to it!