The shortlist for the Elektra Awards 2019 was announced this week, and we were extremely pleased to see that ITECH has been shortlisted in the「Test Product of the Year 」category.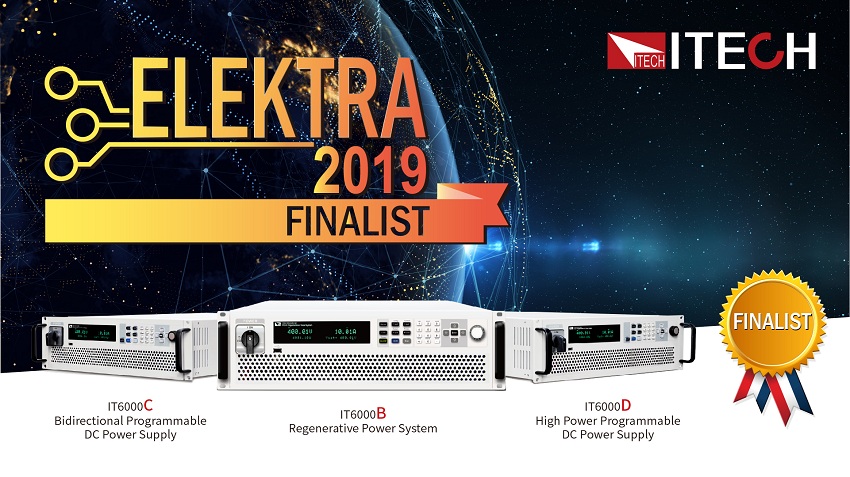 IT6000B series is a combination of bidirectional power supply and regenerative electronic load released by ITECH in December 2018. It adopts a modular design, high power density design provides 18kW in 3Uspace, and energy recovery efficiency is up to 95%. IT6000B is a pioneering product, only a button is needed to switch between the bidirectional power supply and the regenerative electronic load, it reduces the space, cost and efforts on DUT for separate units. Thanks to the patented "Optical fiber parallel"technology, power can be expanded up to 1152 kW, and the performance after paralleling is consistent with the stand-alone, such as dynamic characteristic, accuracy and so on, which breaks the traditional "analog signalparallel" technology, solves the drawbacks that the whole machine needs tobe re-calibrated after traditional paralleling, makes switching between applications of different sizes and powers more flexible, convenient and easyto operate. IT6000B series is a kind of product that can easily meet the test requirementsno matter how complex the application is and how special the industry is., not only help you improve test efficiency, but also provide you with the mostprofessional solutions.
"We have purchased ITECH make IT6000B Bidirectional Power Supply. The power supply functions and options were demonstrated during installation, the performance of the power supply is satisfactory. We started using this power supply for our testing purpose. We are especially happy with the point that it can not only be used as a power supply, it's also an electronic load. It seems that we bought 1 unit but got 2. I've never seen this kind of instrument before", Siemens engineer said.
Elektra Awards 2019 is the focus of the European electronics industry this year, known as the "Oscar" for the electronics industry. The final winners will be announced at the awards dinner in London on December 4, 2019. Let's look forward to it!