Electronica2022 will be held in Trade Fair Center Messe in Munich on November 15-18, 2022.This will be the first meeting in four years, we treasure every opportunity to meet with you, our valued customer. We cordially invite you to visit our booth Hall A3.535.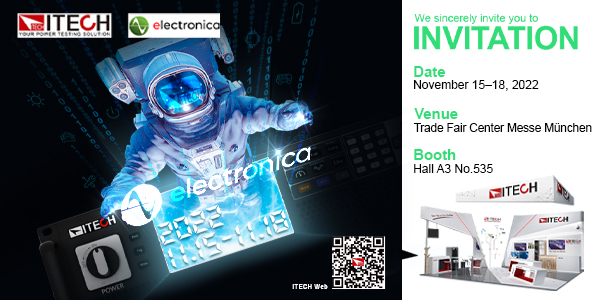 As a professional manufacturer of power electronics testing instruments and systems, ITECH always keeps the spirit of continuous innovation and excellent quality since established. The long-term investment on research and development of new technology creates high performance products and reliable userexperience.
We look forward to seeing you on November 15-18.
electronica has started since 1964, it is the electronics industry's most important international industry gathering and features a supporting program with forums and conferences. As the most important exhibition of this year, what's new can we expect for this exhibition?
ITECH will exhibit all series of T&M instrument products, including AC powersupply, DC power supply, bidirectional DC power supply, regenerative powersystem, AC electronic load, DC electronic load, regenerative DC electronic load, grid simulator, source measure unit (SMUs) and etc.
The new product IT2800 Graphical Source Measure Unit will debut at the electronica 2022, it is compact and cost-effective bench-top Source Measure Units (SMUs) with the capability to source and measure both voltage and current. IT2800 Series SMU combines the capabilities of a voltage source, a current source, avoltage meter, a current meter and an ohmmeter (along with the capabilityto switch easily between these various functions). IT2800 Series is suitable for a variety of test applications: discrete semiconductor devices, passivedevices, transient suppression devices, laser diodes, TVS, varistors, etc.
At the same time, ITECH will show our star product IT6000 series. This series consists of IT6000B Regenerative Power System, IT6000D High Power DC powersupply, IT6000C Bi-directional DC power supply. IT6000B Regenerative Power System integrates bidirectional power supply and regenerative electronic load into one 3U unit. IT6000D High Power DC power supply is a single channel output DC programmable power supply with auto range of 5KW, 10KW and 15KW. IT6000C Bi-directional DC power supply series bidirectional programmable DC powersupply, with standard two-quadrant function, is regenerative high power density DC power supply with power supply and load in one.
Also,we will show another explosive product IT-M series, IT-M family includes DCpower supply, bipolar power supply, AC power supply, regenerative electronicload, power system and many other products, which give users a wide range ofchoices to meet the diverse testing demands.
It's known that ITECH has launched more than 20 new products in recent 4 years, Inaddition to the star products mentioned above, ITECH alsolaunched many excellent products such as IT7800 High Power Programmable AC/DCPower Supply, IT-N6900 Programmable DC Power Supply, IT8200 Regenerative AC/DCElectronic Load, IT7900P High Performance Regenerative Grid Simulator and etc. All of them have become the hot-selling products and all of them will allappear in the electronica 2022.
Welcometo stop by ITECH booth at Hall A3.535, and we will keep updating of the latestnews.
Formore information, please visit ITECH website: https://itechate.com/