The American professional media WTWH Media has just announced the winners of 「Leap Award 」. ITECH IT2800 series high-precision source meter (SMU) has been awarded the 「Honorable Mention」of the category 【Test & Measurement】.
This is another award after EIA 「Test, Measurement & Inspection Productof the Year」which was announced a week ago. Cheers again.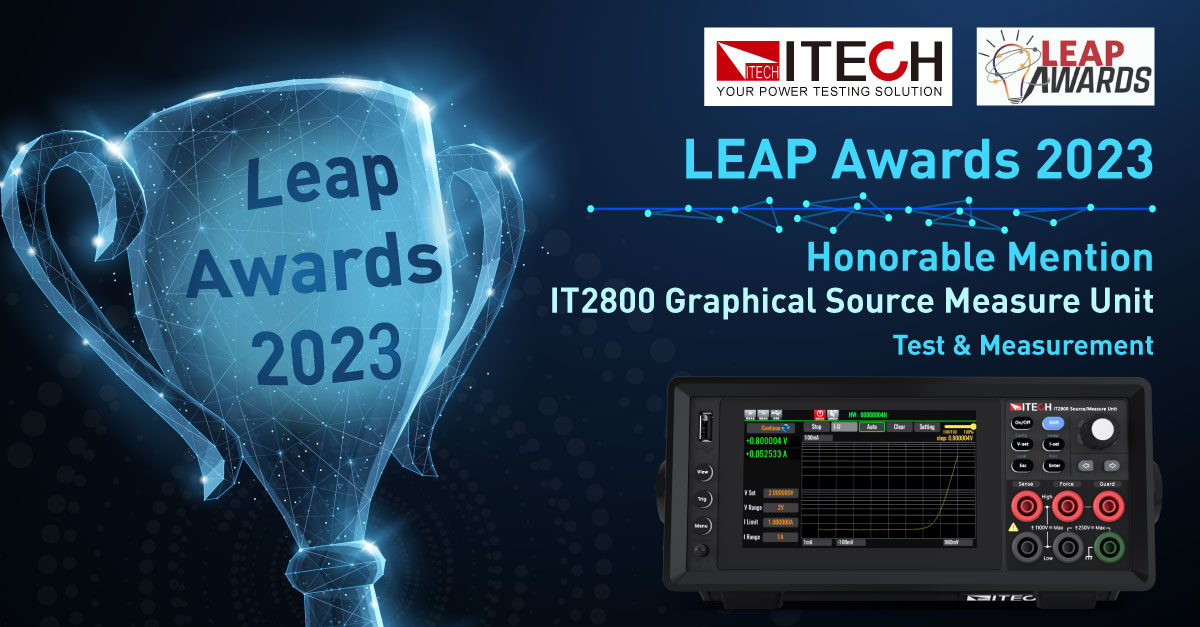 The LEAP Awards is an annual program held by WTWH Media that celebrates the best components and services across the mechanical and electrical engineering design industries. The awards honor the best designs in various categories, including additive manufacturing, advanced materials, connectivity, embedded computing, fastener technology, hydraulics and pneumatics, mechanical, motion control, power electronics, sensors, test and measurement. The winners are selected by the engineering community. It aims to showcase the best engineering innovations across several design categories and celebrate innovative design engineering.
The ITECH IT2800 series SMU is a compact, cost-effective bench top source meter. It integrates 6 device functions into one, including four-quadrant voltage source, current source, 6.5 digital multimeter, pulse generator, battery simulator and electronic load functions. Equipped with ITECH SPS5000 semiconductor parametric testing software, it can achieve efficient semiconductor device characteristic characterization testing. IT2800 SMU covers the current range from 10fA to 10A and the voltage range from 100nV to 1000V. In addition to the DC operating mode, the IT2800 series SMU can also perform pulse measurements to prevent errors in the measurement results caused by the device's heating. The 5-inch touch screen provides the source meter with an excellent graphical user interface and various display modes, helping engineers largely improve the testing efficiency. It is widely used in fields such as discrete semiconductor devices, power chips, passive devices, optoelectronic devices, micropower consumption measurement, materials research and so on.
As a professional manufacturer of power electronics testing instruments and systems, ITECH always keeps the spirit of continuous innovation and excellent quality since established. The long term investment on research and development of new technology creates high performance products and reliable user experience.
Until now, we have brought to the market over 900 products including AC/DC power supply, AC/DC electronic load, power meter, battery IR tester, power system, etc. Meanwhile, ITECH provides you with more than 20 solutions which can be applied to different industry areas, such as EV, automotive electronics, solar and energy storage, civil aviation, semiconductor, education, etc. ITECH has gone to about 50 countries in the world. On the way to safer and more efficienttesting solutions, we never stop.